Theresa Koehler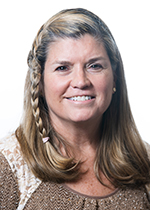 Pacific Northwest National Laboratory
PO Box 999
Richland, WA 99352
Send Email
Biography
Theresa Koehler joined Pacific Northwest National Laboratory (PNNL) in 1999. Before joining PNNL, she worked at industrial manufacturing facilities in environmental, energy, and project management capacities where she gained an understanding of managing multi-million dollar projects from a comprehensive, multidisciplinary approach. Her breadth of projects at PNNL has enhanced her knowledge of energy auditing, efficiency, energy generation technologies, and advanced diagnostics to enhance the service life of plant equipment.
Research Interests
Industrial energy management/assessments; effective operations and maintenance practices
Distributed generation/combined cooling, heating, and power; fuel cell technologies
Fault detection and diagnostics and prognostics; life-cycle cost analysis.
Education and Credentials
M.B.A. Washington State University, 1998
P.E. (Mechanical) License, 1994
B.S.M.E. Ohio University, 1983
PNNL Publications
2015
Parker S.A., W.D. Hunt, K. McMordie Stoughton, B.K. Boyd, K.M. Fowler, T.M. Koehler, and W.F. Sandusky, et al. 2015. Metering Best Practices, A Guide to Achieving Utility Resource Efficiency, Release 3.0. PNNL-23892. Richland, WA: Pacific Northwest National Laboratory. Metering Best Practices, A Guide to Achieving Utility Resource Efficiency, Release 3.0
2014
Engels M., P.A. Boyd, T.M. Koehler, S. Goel, D.R. Sisk, D.D. Hatley, and V.V. Mendon, et al. 2014. Smart and Green Energy (SAGE) for Base Camps Final Report. PNNL-23133. Richland, WA: Pacific Northwest National Laboratory. Smart and Green Energy (SAGE) for Base Camps Final Report
Johnson S.R., T.M. Koehler, and B.K. Boyd. 2014. Energy and Water Conservation Assessment of the Radiochemical Processing Laboratory (RPL) at Pacific Northwest National Laboratory. PNNL-23408. Richland, WA: Pacific Northwest National Laboratory. Energy and Water Conservation Assessment of the Radiochemical Processing Laboratory (RPL) at Pacific Northwest National Laboratory
2011
Sullivan G., W.D. Hunt, R. Pugh, W.F. Sandusky, T.M. Koehler, and B.K. Boyd. 2011. Metering Best Practices, A Guide to Achieving Utility Resource Efficiency, Release 2.0. PNNL-17221 Release2.0. Richland, WA: Pacific Northwest National Laboratory. Metering Best Practices, A Guide to Achieving Utility Resource Efficiency, Release 2.0
2003
2002
2001