Erica Kilgannon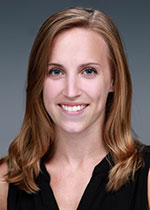 Pacific Northwest National Laboratory
PO Box 999
Richland, WA 99352
Send Email
Biography
Erica Johnson joined PNNL in 2013 and is primarily involved in developing and analyzing test procedures and energy use analyses for the Appliance and Commercial Equipment Standards program. Other research includes whole building performance modeling, non-intrusive load monitoring research, statistical analysis of domestic water heating metering data, and studying energy impacts of behaviorally influenced systems. Her skills include residential energy research, test procedure development, technical writing, and statistical analysis using R (a software package).
Prior to joining PNNL, Erica worked as an intern at PNNL in 2011 and 2012 through the Science Undergraduate Laboratory Internship (SULI) program. During this time, she worked in the Technology Planning and Deployment Group specializing in energy modeling and data analysis for whole home deep energy retrofits. Erica has also analyzed fuel emissions research as part of an internship at an engineering firm in Seattle, WA.
Research Interests
Energy Modeling and Simulations
End-use Metering Analysis
Energy Policy
Education and Credentials
M.S., Environmental Science, Oregon State University
B.S., Mathematics, Pacific Lutheran University
B.A., Environmental Studies, Pacific Lutheran University
PNNL Publications
2016
Mayhorn E.T., G.P. Sullivan, J.M. Petersen, R.S. Butner, and E.M. Johnson. 2016. "Load Disaggregation Technologies: Real World and Laboratory Performance." In 2016 ACEEE Summer Study on Energy Efficiency in Buildings, August 21-26, 2016, Pacific Grove, California, 1-1 - 1-13. Washington Dc:American Council for an Energy-Efficient Economy. PNNL-SA-116560.