Caroline Harrover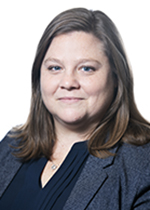 Pacific Northwest National Laboratory
PO Box 999
Richland, WA 99352
Send Email
Biography
Ms. Harrover has more than 15 years of proven energy and environmental experience in: program management for high level clients; researching, designing and drafting energy and sustainability strategy, policies and guidance; expanding and maintaining knowledge that corresponds with Federal-level policies; and managing and conducting detailed regulatory and policy analyses for the Department of the Army, Department of Defense (DoD), the Environmental Protection Agency, and other clients. She has supported the Army Office of Energy Initiatives (OEI) since inception in 2011, managing a diverse staff of experts in renewable energy technologies, utility infrastructure, project management, Federal acquisition, strategy and metrics development, business case analysis, and communications disciplines to provide technical support to the OEI in the development of large-scale, third-party financed, renewable energy projects. She supports the Army Net Zero initiative to develop a management framework that encourages Army installations to move beyond compliance with the Federal mandates and Executive Order energy and water efficiency, and waste reduction goals. She also coordinates an interdisciplinary team of electrical engineers, facility managers, economists, and program managers to develop a definition, metrics, valuation methodologies, and budget justification for increased Army and DoD investments in energy security. Ms. Harrover has demonstrated skills in economics and policy, with functional expertise in program management and policy analysis and development.
Research Interests
Program Management
Technical assistance for Federal-sector energy and sustainability-related activities
Federal energy and sustainability policy analysis and development
Alternative financing options for energy/water projects
Market and non-market valuation techniques
Outreach and technical training development
Education and Credentials
M.S. Resource Economics and Policy, Duke University
B.A. Physical Anthropology and Environmental Science, Columbia University
DoD Top Secret Security Clearance (2004-present)
PNNL Publications
2018
Kingery K.M., K.M. Fowler, and C.M. Harrover. 2018. "Projects without a purpose: Why a top down strategy to resilience matters." The Military Engineer 10, no. 714:50-52. PNNL-SA-134184.